Virtual Stand-Up: A Simple & Effective Communication Tool for You and Your Team During COVID-19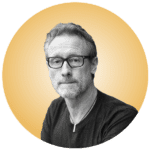 By Grant Ian Gamble | April 17, 2020
Grant Ian Gamble is a business growth consultant, executive coach, author and keynote speaker. He works in a broad array of industries helping companies build teams, navigate change and drive growth.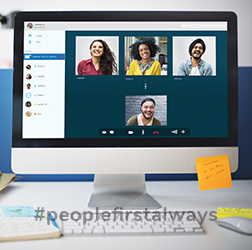 Monday through Friday every week, first thing in the morning, I facilitate a Virtual Stand Up with a management team I am consulting with. This helps the department heads stay connected, even though they're not in the same physical work environment at the moment.
This daily Virtual Stand-Up reduces miscommunication, increases camaraderie, helps keep team members focused, and ultimately provides a community for people who are getting more and more disconnected as this pandemic expands its grip on our world.
Getting your team together for a daily Virtual Stand-Up can be fun, fulfilling and emotionally fortifying.
Daily virtual huddles might seem a bit much, but can be incredibly productive when you have the right guidelines in place.
Verne Harnish has championed a huddle concept he calls the "Daily Stand-Up". The Stand-Up model covers three basic things:
What did you do yesterday? 

What are you planning to do today? 

Do you have any unique challenges you are currently facing?
The real beauty of this model is that each participant only has 60 seconds to download those three update items. This means that if you have 10 people on your team, the meeting should take no longer than 10 minutes.
From my experience, the most productive element of this format is declaring what we're up to today. Some team members approach the day with plans in place, but most just wing it. This format asks those team members to be more proactive and less reactive.
Because of the nature of this format, it is very efficient. It needs a facilitator to manage people's time and keep things on track, but from my experience, after a few meetings team members pick up the protocol really well and find it incredibly valuable. 
» Here are some simple tips to ensure a successful Virtual Stand-Up:
VIDEO CONFERENCE
60 SECONDS PER PERSON: 

     What did you do yesterday? 

     What are you planning to do today? 

     Do you have any unique challenges you are currently facing?
1. RELEVANT TOPICS
Ensure the topics team members present are relevant to the group. If they need to inform another team member of something, or have a discussion with them one-on-one, this is not the forum. Instead, encourage them to have the conversation independently.
2. HIGHLIGHTS ONLY
When team members review what they did yesterday, they need to focus on highlights only. The same applies to their plans for today. NOTE: When reviewing yesterday on a Monday, we refer back to Friday's events.
3. SHARING UNIQUE CHALLENGES
When reviewing any unique challenges they are facing, these should be things that are impeding progress or causing them undue angst. This does not include things that apply to everyone like the weather, or this pandemic. An example would be, "My internet is down at home." This is good for others to know and obviously is a relevant issue given the current lockdowns.
4. USE A TIMER
Initially, use a timer. This won't be necessary for the long term, but people will initially give more detail than needed and when the buzzer goes off it is a good reminder to keep it short.
5. ENCOURAGE OFFLINE CONVERSATIONS
If a team member goes off on a tangent or a conversation starts up between two people, the facilitator needs to interject and suggest they take the conversation offline after the call. They can even stay on the call after everyone else drops off, or schedule a separate call or meeting.
6. ALWAYS START ON TIME
Always start the meeting on time. Team members will learn that this is a short, sharp and functional opportunity to stay connected and dialing in on time is expected.
7. USE A RELIABLE VIDEO CONFERENCING TOOL
Use a reliable conferencing tool. I usually use Google Hangouts and put the meeting on repeat so that people have it on their calendar and can dial in easily. There are lots of free conferencing tools out there, so take your pick. 
8. REDUCE BACKGROUND NOISE
Encourage team members to mute their devices when they're not talking in order to reduce background noise.
9. VIDEO, VIDEO, VIDEO!
As often as possible, I suggest doing a video call instead of a phone call. Some teams do a video call every time. This leaves less room for distractions and miscommunication as it's much easier for people to read each other's emotions when they can see each other.
If you limit each team member to 60 seconds and stick to this routine, you'll quickly experience the benefits. These meetings can be critical in keeping your team on track and maintaining your work community. 
I have used this format in many scenarios, but never quite as beneficially as today.
We need each other more than ever, and having simple and productive rituals like Virtual Stand Ups will help your team stay aligned, productive and connected.
CUSTOMER EXPERIENCE & TEAM ENGAGEMENT: AFFINITY OS™ | WELLNESS INTEGRATION | MINDFUL LEADERSHIP: "THE AFFINITY PRINCIPLE"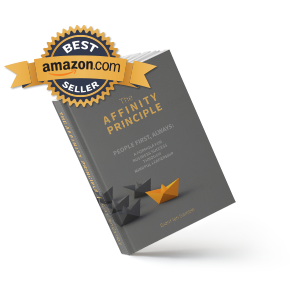 The Affinity Principle™ by Grant Gamble presents a formula for business success through a people-centric, mindful leadership approach.