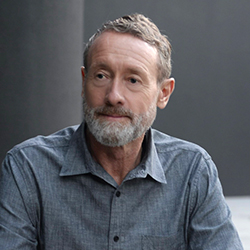 Grant Ian Gamble is a transformative leader with an entrepreneurial spirit, deeply rooted in over three decades of global wellness and business innovation. Starting his career as a Junior Officer in the Royal Australian Navy, he swiftly transitioned to the civilian business world, pioneering work in integrated fitness, wellness and healthcare, beginning with a 15x revenue increase for a Southeast Queensland fitness franchise through to a $100M revenue growth for acac Fitness & Wellness in the U.S.
Most recently, Grant has served as the CEO of TotalFusion Australia, the largest and finest health and wellness campus in the Asia-Pacific region. He left TotalFusion to focus on growing his company, AFFINITY OS.
A multi-faceted professional, Grant's role as the Chief Operating Officer of the Seraphic Group saw him take a startup to an annual revenue of $50M in just two years. This phenomenal success story is testament to his multidisciplinary mastery, extending from sales and marketing to HR and operations.
His best-selling book, "The Affinity Principle," encapsulates his people-first approach to mindful leadership, offering a robust framework for business success. As the founder of AFFINITY OS, an AI-driven team engagement and customer experience platform, Grant remains at the forefront of industry innovation.
A lifelong learner and adventurer, Grant took a family sabbatical during COVID, traveling over 20,000 miles across the Americas and the South Pacific. He continues to inspire through the "AFFINITY Podcast" and as a member of the Global Wellness Institute's Wellness Communities and Real Estate Initiative. 
Whether revolutionizing wellness campuses in Australasia, or serving select international clients in diverse sectors like integrative health and aged care, Grant's leadership consistently brings visionary thinking, operational excellence, and heartfelt human connection to every endeavor.
In summary, Grant Ian Gamble is more than a business leader; he is a thought leader, an author, a speaker, a tech entrepreneur, and a global influencer committed to making wellness an accessible, preventive healthcare solution. His unique combination of strategic vision, executional mastery, and holistic wellness philosophy has left an indelible impact across multiple industries and continents.
GRANT'S CORE VALUES
PEOPLE FIRST, ALWAYS – Approaching every person with genuine empathy and compassion.
INTEGRITY & AUTHENTICITY – Seeking the highest good for our team, partners and clients.
TRANSFORMATION & SUSTAINABILITY – Driving innovation for maximum impact with minimum footprint.
TRANSCENDENCE – Transforming leadership, teams, and community dynamics for the greatest good of all.
Grant's towering strength is his ability to walk the line between providing top-notch executive leadership, and rolling up his sleeves and working very hands on with frontline employees. Grant can lead top-down from the C-suite with his intellect, or from the ground up with his work ethic and teamwork. Grant is a natural leader.
CUSTOMER EXPERIENCE & TEAM ENGAGEMENT: AFFINITY OS™ | WELLNESS INTEGRATION | MINDFUL LEADERSHIP: "THE AFFINITY PRINCIPLE"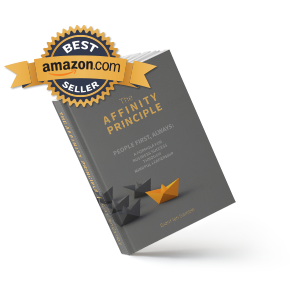 The Affinity Principle™ by Grant Gamble presents a formula for business success through a people-centric, mindful leadership approach.