Blog
CRAFTING SUCCESSFUL WELLNESS BRANDS
Inspiring conscious leaders to mindfully build successful wellness-oriented companies that serve, synchronize, and integrate the best interests of all stakeholders to bring about positive local, national and global impact.
Join the mindful leadership community

Team member (aka employee) engagement is crucial to the success of any business. It not only boosts productivity but also enhances team member satisfaction and reduces turnover. With the increasing importance of engagement in today's workplace, it's essential to focus on creating a people-centric company culture through mindful leadership and always putting people first.
What is team member engagement, and why is it important?
read more
CUSTOMER EXPERIENCE & TEAM ENGAGEMENT: AFFINITY OS™ | WELLNESS INTEGRATION | MINDFUL LEADERSHIP: "THE AFFINITY PRINCIPLE"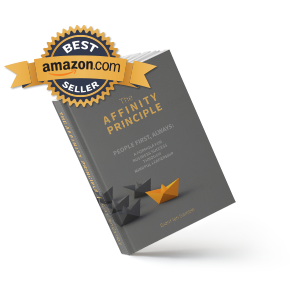 The Affinity Principle™ by Grant Gamble presents a formula for business success through a people-centric, mindful leadership approach.