Blog
CRAFTING SUCCESSFUL WELLNESS BRANDS
Inspiring conscious leaders to mindfully build successful wellness-oriented companies that serve, synchronize, and integrate the best interests of all stakeholders to bring about positive local, national and global impact.
Join the mindful leadership community

The business environment is roiling; stress is at an all-time high; and yet some leaders seem to swim those troubled waters with equanimity and ease. After 35 plus years as a leader and senior executive in the healthcare, fitness, and wellness industries, I have learned one indisputable truth: one size does not fit all when it comes to a healthy lifestyle and self-care. What works for one person may not work for another. This is not another exercise more and eat less lecture. It is a simple set of lifestyle options for leaders that can enhance the quality of your life, your leadership, and positively impact those around you.
read more
CUSTOMER EXPERIENCE & TEAM ENGAGEMENT: AFFINITY OS™ | WELLNESS INTEGRATION | MINDFUL LEADERSHIP: "THE AFFINITY PRINCIPLE"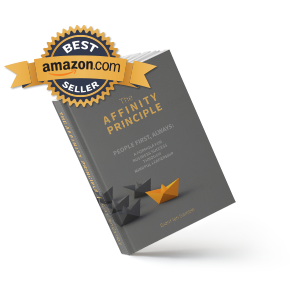 The Affinity Principle™ by Grant Gamble presents a formula for business success through a people-centric, mindful leadership approach.